XYPNLive AdvisorTech Expo 2022
The First Truly Dynamic
Retirement Income Technology
SUPPORTING THE FUTURE OF FINANCIAL PLANNING WITHIN THE CURRICULUM AT
I firmly believe Income Lab is the future of retirement modeling and distribution software. Its tools are innovative and forward thinking and we are thrilled to teach this platform to our financial planning students at the University of Illinois.
-Craig Lemoine, University of Illinois
A Game-Changing Experience
Easy Social Security
Planning
Intelligent Longevity
Planning
Automated Plan Monitoring
and Management
Economic and Market
Conditions
What our clients are saying
Derek Tharp
Ph.D., CFP®, CLU®, RICP®
Conscious Capital, Inc.
"Income Lab has built a tool that provides truly unique insights into retirement income planning that can be implemented with clients in a scalable manner. The team at Income Lab combines good technology, a clear engagement with the retirement income planning research, and a strong business acumen in a way that really excites me about the future of Income Lab and the positive impact Income Lab can have for both advisors and the retirees they serve."
Miriam Whiteley 
CFP®, RLP®, CeFT®
LifeCraft Financial Planning, LLC
"Income Lab has been an important and wonderful addition to my tech stack. Income Lab has helped my worried clients, where percentages didn't look good enough, see that they are okay in a way that they can understand. It aligned their finances with their decision on when to retire giving them a life of financial freedom from stress and worry."
Keith Spencer
CFP®
Spencer Financial Planning, LLC
"Income Lab has been a game changer for me. I've used other financial planning software, but one thing that always bothered me is the Monte Carlo probability-of-success percentages. You put in a client's numbers, and it spits out a probability of success. I've always found that to be vague and unsatisfactory, especially when it becomes client-facing. With Income Lab it's very clear how much you can spend and the guardrails around that number."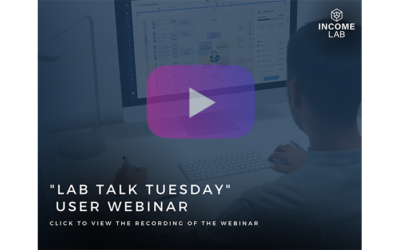 Income Lab's Justin Fitzpatrick and Derek Tharp answer crucial questions from users about retirement planning and how to improve their distribution planning with Income Lab software. Income Lab users have exclusive access to this webinar through the user Help Center....
read more
The first truly dynamic retirement
planning technology.