Dynamic
Retirement
Income Planning
Tax-Smart
Distribution
Planning
Economic and
Market Conditions
Intelligent
Longevity Planning
Automated Plan
Monitoring
Easy Social
Security Planning
Life Hub, a next-generation interactive tool for financial advisors that gives their clients a detailed visualization of their financial lives on one page, at any level of detail, and at any point in time. Life Hub is the only tool that seamlessly integrates dynamic retirement income plans and tax-smart distribution strategies.
Dynamic Retirement
Income Planning
The evidence is clear: retirees rarely run out of money. Instead, they adjust over time, spending more when they can and less when they must. So the current focus on probability of failure is fundamentally flawed. The real questions are how likely is it that a client will need to take a pay cut, how large could it be, when might it occur, and how long could it last?
Income Lab uses total-risk based guardrails to build sophisticated, customized plans for how clients will adjust their spending as circumstances change. We continuously test these plans against current conditions and alert you when a client's plan calls for a change.

Tax-Smart Distribution Planning
Deciding how best to source portfolio withdrawals involves accounting for a full range of tax effects and a wide range of withdrawal strategies as they apply to the idiosyncrasies of each plan. Income Lab's Tax Center helps you quickly evaluate the tax consequences of strategies like bracket management and tax-ordering (e.g., Taxable -> Tax Deferred -> Tax Free), including all planned cash flows (Social Security, pensions, investment income, portfolio withdrawals) and their differential tax treatment, and produces simple, digestible data to help you and your clients make informed decisions
Economic and Market
Conditions
What a retiree can afford to spend is closely tied to current economic and market conditions like interest rates, inflation, and equity valuations. That means retirement risks are not the same in all environments.
Income Lab's industry-first economic context engine allows you to incorporate information about market and economic conditions into your retirement spending advice. This engine is updated monthly so that your advice is never out of date.
Intelligent Longevity
Planning
Go beyond the awkward question, "how long do you expect to live?" with Income Lab's powerful actuarial engine. Set longevity risk levels for your clients and build continuously updated longevity estimates into your income dynamic plans. Account for a range of longevity risks, including the risk posed to a surviving spouse if a client dies early in retirement. Income Lab updates your plans' longevity estimates monthly to account for changes in clients' ages and the latest actuarial data.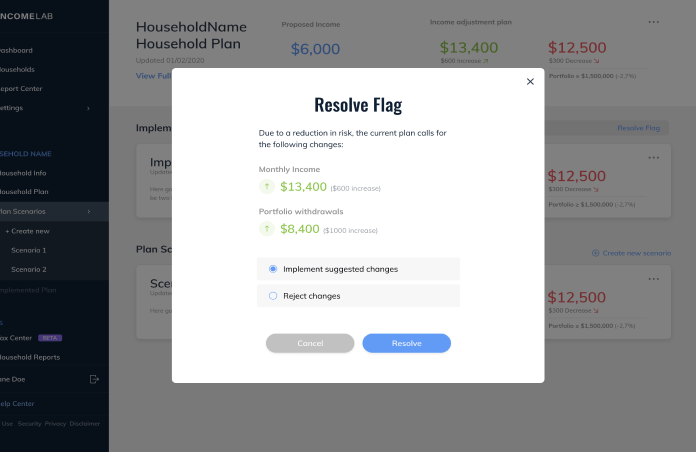 Automated Plan Monitoring
Retirement income planning is not a one-time event. Dynamic planning requires ongoing plan monitoring. Income Lab provides you with a scalable system for continuous fiduciary-ready plan oversight. Our system updates monitored plans monthly and notifies you when a plan calls for a change. You and your clients can rest assured that your plans are being actively monitored.
The first truly dynamic retirement
planning technology.